Surfing in Central Florida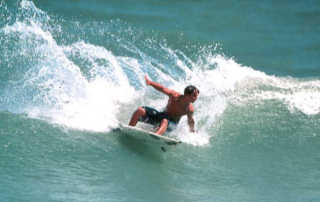 Cocoa Beach, only 20 miles away, is world famous for its surfing. But Cocoa Beach is only one small stretch in the miles and miles of beach in Central Florida. And there are literally hundreds of parks and public access facilities to match the miles of beaches.
A place to stay while surfing in Melbourne and Indialantic... Melbourne Harbor Condominiums... only 2 miles from the Indialantic Beach.
Central Florida Surf Report Surfline.com
The Longboard House (Indialantic)
Ron Jon's (Cocoa Beach... 20 minutes away)
Central Florida Surfing Site - Links to surf cams, surf reports, etc, in East Central Florida
Balsa Bill - Satellite Beach Longboard Maker
Ocean Sports World - Surfing & Kayaking Sales & Rentals in Cocoa Beach
Sebastian Inlet Surf Shop (Sebastian Inlet)
Surf Schools
Ron Jon Surf School - (Cocoa Beach) A block from Ron Jon's in Cocoa Beach... the first surf school in the state of Florida! Check out our summer surf camp. We cater to families and kids.
Surf Guys Surf School (Indialantic)